Journalist Julie Kelly from "American Greatness" broke the news that Gen. Mark Milley ran the show against American citizens during the Jan. 6 incident, using armed military personnel, surveillance, and intelligence collection platforms.
Kelly released an article titled: "What is Adam Schiff Hiding?"
According to an excerpt from the article:
The then-acting attorney general — Rosen was appointed on December 24, 2020 to replace departing Attorney General William Barr — had assembled a team of elite and highly skilled government agents at Quantico, a nexus point between the FBI and U.S. military, the weekend before Congress met to certify the results of the 2020 presidential election.

At the same time he was rejecting President Donald Trump's last-minute appeals to investigate election fraud, Rosen was managing a hush-hush operation in advance of planned rallies and protests in Washington on January 6.
JOIN THE PATRIOTS:
"Rosen made a unilateral decision to take the preparatory steps to deploy Justice Department and so-called 'national' forces," Newsweek reporter William M. Arkin disclosed in a bombshell report earlier this year. "There was no formal request from the U.S. Capitol Police, the Secret Service, or the Metropolitan Police Department — in fact, no external request from any agency. The leadership in Justice and the FBI anticipated the worst and decided to act independently, the special operations forces lurking behind the scenes."

Those assets, according to Arkin, included "commandos" with shoot-to-kill authority. And among them were members of the military.
?? NATIONAL POLL ??
Kelly is now releasing information from the Department of Defense Inspector General report which shows DOD was the lead agency in the incident. In short, the U.S. military ran the whole thing in possible violation of the Constitution.
This shows the U.S. Federal government may have broken all trust with the American people and the leadership of today's American armed forces is acting in a treasonous manner against the founding.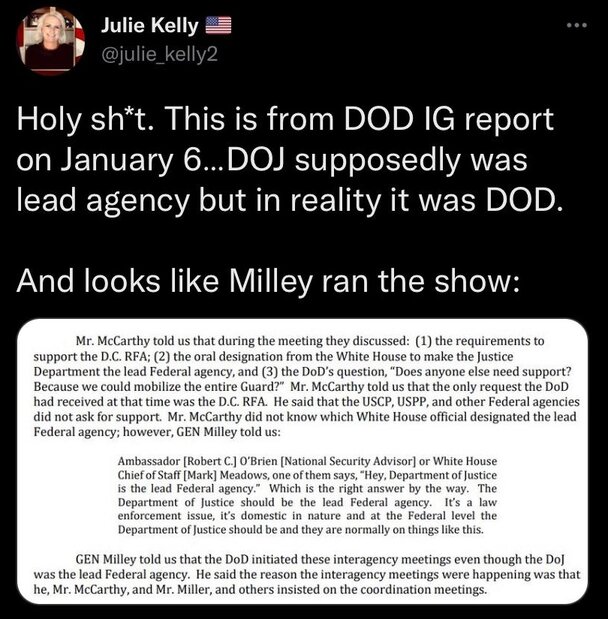 Source: worthypolitics.com