Donald Trump fired a warning shot at Georgia Secretary of State Brad Raffensperger on Monday. Trump endorsed a challenger to Raffensperger to fill his spot and give Georgians true election integrity.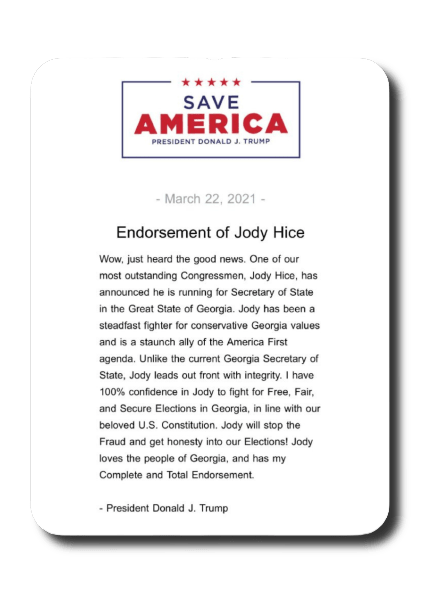 "Wow, just heard the good news," Trump wrote. "one of our most outstanding Congressman, Jody Hice, has announced he is running for Secretary of State in the Great State of Georgia."
"Jody has been a steadfast fighter for conservative Georgia values and is a staunch ally of the America First agenda," he added.
"Unlike the current Georgia Secretary of State, Jody leads out front with integrity," Trump continued. "I have 100% confidence in Jody to fight for Free, Fair and Secure Elections in Georgia, in line with our beloved U.S. Constitution."
"Jody will stop the Fraud and get honesty into our Elections!" he concluded. "Jody loves the people of Georgia, and has my Complete and Total Endorsement."
On Saturday, Georgia Secretary of State Brad Raffensperger, whose office leaked information that led to deceptively edited stories against Donald Trump, was rebuked by the Fulton County GOP.
"SCOOP: The Fulton County GOP in Georgia denied the Secretary of State Brad Ratffensperger of being a delegate to his county convention from his own precinct," Ryan James Gidursky reported. "Raffensperger [ed.] was not in attendance but sent a note asking to be elected."

Source: trendingpolitics.com
SUPPORT OUR CHANNELS:
Please help support alternative media. We follow the truth, wherever it leads. We reject absolutely big-tech and the narrow, dogmatic views of MSM. Although we are new to the arena, the MSM and its watchdogs–Snopes, Media Matters, Politifact, etc.–have waged war on us. We need your help to thrive, so that we can present important, unique news not found elsewhere. If you appreciate this content, please link to it across your social media feeds to help us grow. Thank you.