Sen. Lindsey Graham (R-S.C.) has criticized Senate Minority Leader Mitch McConnell (R-Ky.) over giving "legitimacy" to former President Donald Trump's impending impeachment trial for allegedly inciting the Capitol riots on January 6.
Graham spoke out against the GOP leader during a Wednesday afternoon appearance on Fox News following the inauguration of President Joe Biden. On Tuesday, McConnell said that Trump "provoked" and "fed lies" to the violent rioters while addressing the Senate for the last time as majority leader. McConnell has also indicated that he is open to the possibility of convicting Trump in the impeachment trial.
Graham praised McConnell's leadership skills on Wednesday while insisting that he was "wrong" about Trump's behavior and the impeachment.
"I don't agree with him," Graham said. "That would be a crime, to provoke somebody, to incite them to violence. Show me the clip where he did that. What I would say about Senator McConnell is that I think he has been a good leader. He's been a great street fighter. I think he'll be a challenge for [Senate Majority Leader Chuck] Schumer. But he is, in my view, giving some legitimacy to this impeachment process that I think is wrong."
"They impeached the president in the House without a lawyer and without one witness," added Graham. "Now, is that what we're going to become as a country? I hope not."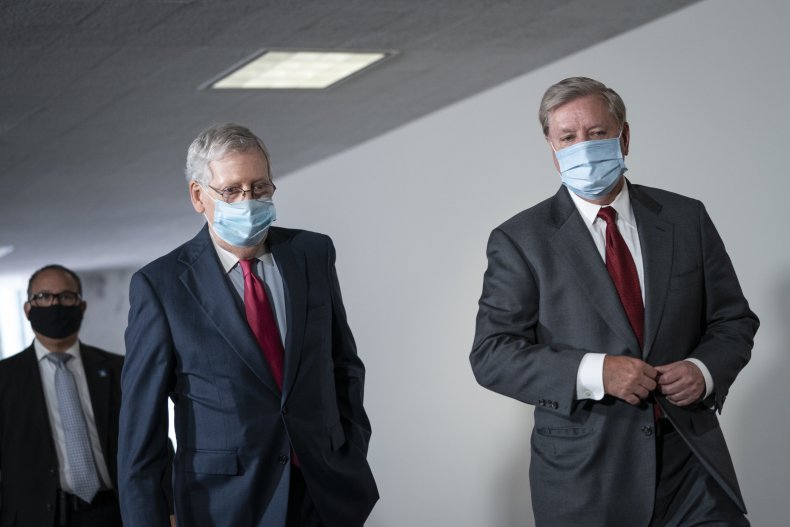 Graham was one of Trump's strongest allies in the Senate during his four years as president but appeared to briefly rebuke him following the deadly Capitol breach, saying "enough is enough" and refusing to entertain his continued false claims that the election had been "stolen" by objecting to Biden's Electoral College victory in the hours following the riots.
However, he quickly leapt to Trump defense following his historic second impeachment by the House last week and has unsuccessfully urged Biden to denounce the impeachment and Democrats to call off the trial. On Wednesday he described the impeachment as a "political exercise that will further divide the country and I think eventually destroy the presidency."
The possibility that McConnell, who holds a great deal of influence over Senate Republicans as their leader, could support conviction is likely to be alarming for the remaining supporters of Trump. If 17 GOP senators join with Democrats, the former president would almost certainly be convicted. Only a simple majority vote would then be needed to irrevocably ban Trump from ever seeking office again.
Graham's efforts to convince McConnell to reverse course and lead the Republican opposition to the impeachment did not pay immediate dividends during the waning days and hours of the Trump presidency. On Tuesday evening, he called on McConnell to "stand up and fight back" by saying that "the second impeachment of Donald Trump after he leaves office is not only unconstitutional, it is bad for the country" during an appearance on Fox News' Hannity.
Source: newsweek.com