Mitt Romney, the blue blood Republican who never quite got over never being elected president was recently booed for minutes on stage at a speaking event. Romney was at the party's state convention in Utah with more than 2,100 Republican delegates packed into the Maverik Center.

Romney had mentioned Trump at the Utah convention, which drew booing.
"So what do you think about President Biden's first 100 days?" Romney asks.
"Now you know me as a person who says what he thinks, and I don't hide the fact that I wasn't a fan of our last president's character issues," he continued, drawing more boos.
On Monday, Trump responded:
"So nice to see RINO Mitt Romney booed off the stage at the Utah Republican State Convention," Trump said in a brand new statement. "They are among the earliest to have figured this guy out, a stone cold loser!"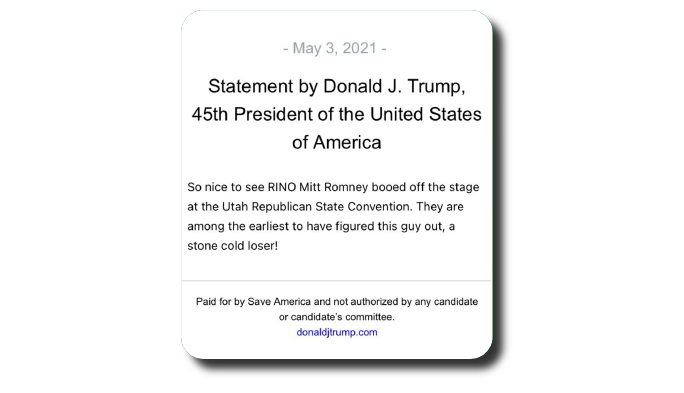 In case you missed it, here is the video:
Mitt Romney booed and called 'traitor' at Utah Republican convention.?? pic.twitter.com/pHsYbnHFGU

— R. Scott Sicario 2.0 (@SicarioScott) May 2, 2021

Source: trendingpolitics.com
SUPPORT OUR CHANNELS:
Please help support alternative media. We follow the truth, wherever it leads. We reject absolutely big-tech and the narrow, dogmatic views of MSM. Although we are new to the arena, the MSM and its watchdogs–Snopes, Media Matters, Politifact, etc.–have waged war on us. We need your help to thrive, so that we can present important, unique news not found elsewhere. If you appreciate this content, please link to it across your social media feeds to help us grow. Thank you.