Have you noticed that everywhere you look these days President Trump is being proven RIGHT about everything he said?

From a stolen election to the border to Big Pharma to a Fake Virus, Trump was right about it all.
And he just reminded us of that this morning.
Check out this statement: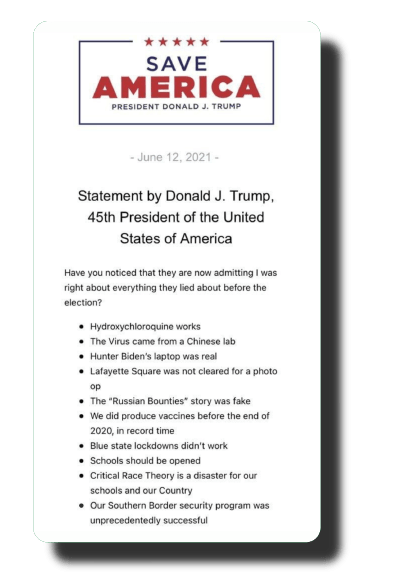 It sure feels to me like President Trump is gearing up for a comeback.
Each day he becomes more bold and more vocal….and I believe that is by design.
He's ready to step back in and reclaim his position.

And millions of Americans are now realizing it too:
Trump was right…about everything.

Study shows hydroxychloroquine and zinc treatments increased coronavirus survival rate by almost three times https://t.co/FGDVBnht4L

— Buzz Patterson (@BuzzPatterson) June 10, 2021
Just in from President Trump: "Have you noticed that they are now admitting I was right about everything they lied about before the election?" pic.twitter.com/EYB870ngMl

— Jenn Pellegrino ?? (@JennPellegrino) June 12, 2021

Source: welovetrump.com
FOLLOW OUR CHANNELS:
Please help support alternative media. We follow the truth, wherever it leads. We reject absolutely big-tech and the narrow, dogmatic views of MSM. Although we are new to the arena, the MSM and its watchdogs–Snopes, Media Matters, Politifact, etc.–have waged war on us. We need your help to thrive, so that we can present important, unique news not found elsewhere. If you appreciate this content, please link to it across your social media feeds to help us grow. Thank you.