Things have gotten even hotter down south this week!
The audits have been going full steam, and slowly, details are being released.

On Wednesday, Vernon Jones, who is running for Governor of Georgia to defeat Brian Kemp, posted a picture to his Instagram of prototype ballots WITH watermarks!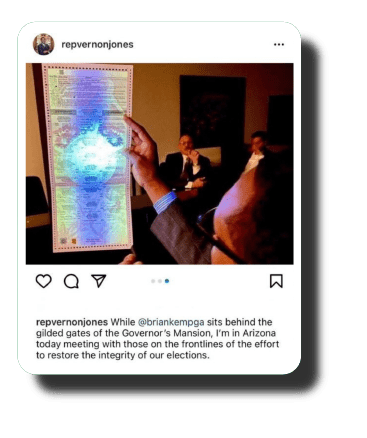 While in Arizona, Jones toured the audit and met with legislators.

The picture He shared was while in a briefing with Arizona legislators at the audit.
The watermarked ballots will allegedly be used in the future to keep elections secure.
However, many patriots have suspected and hoped legitimate ballots were printed with watermarks.

It would be easy to shine a light on voter fraud if illegitimate ballots without watermarks were found!
In a recent interview on Bannon's War Room, Vernon Jones says "light is being shined on this process."
He also says the election fraud unearthed will get the rats out of town!
And, Jones says a hurricane is happening in Georgia in regards to the voter fraud coming out.
Could the ballots in 2020 have been, in fact, watermarked?

Source: welovetrump.com
FOLLOW OUR CHANNELS:
Please help support alternative media. We follow the truth, wherever it leads. We reject absolutely big-tech and the narrow, dogmatic views of MSM. Although we are new to the arena, the MSM and its watchdogs–Snopes, Media Matters, Politifact, etc.–have waged war on us. We need your help to thrive, so that we can present important, unique news not found elsewhere. If you appreciate this content, please link to it across your social media feeds to help us grow. Thank you.